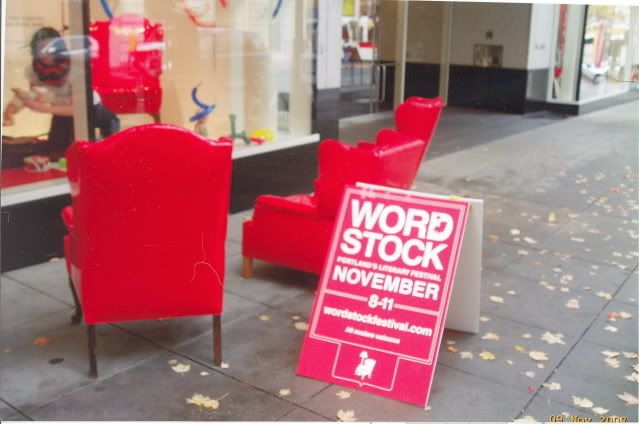 Whew!
This past weekend was the 3-day extravaganza that is
Wordstock
, Portland's Festival of the Book, and I'm still recovering. We kicked off the fun Thursday night, when my good friend and comrade-in-arms,
Sally Nemeth
(she of the funny and poignant YA novel,
The Heights, the Depths, and Everything in Between
) arrived fresh from the Hollywood writers' strike. First on the agenda: catching up over pub food and some fine local microbrews. Then, Friday morning, Sally went off into the hills with a wild-food expert, part of her research for her new YA novel (check out her
blog
for more on her adventures in untamed NW cuisine).
In the meantime, I was having my own adventures. As part of Wordstock's publicity blitz, those madcap book folks thought it would be fun to have authors sit in a store window in downtown Portland and read to folks passing on the street. When I first got their call for volunteers, I thought,
No way. Never in a million years
.
Whatsa matter? Chicken?
No, I'm not chicken! It's just…

Bra-a-a-w! Braw-braw-bra-a-a-w!

I AM NOT CHICKEN!
So do it, then. Dare you. Double dare you.

ALL RIGHT, I WILL!

I shot off an e-mail to the Wordstock organizers:
Sign me up!
And then spent the next two days wishing I could take it back. I
was only joking. Someone sent that e-mail without my knowledge. I have a family emergency. My house burned down. I lost my book. I lost my voice.
But when Friday afternoon arrived, here I was:
Wordstock did a bang-up job, not only making a cozy author space in the window, but setting red Wordstock armchairs outside so folks could take a load off while they listened. People would be hurrying past, on their way to wherever, and they'd glance up with puzzled looks (
where is that voice coming from
?) Then they'd pause. Sometimes just for a few seconds, but often for a few minutes or even longer. It was, as another author-in-the-window told me later, "Weird and wonderful!" By the end, I was wishing I could read some
more.
Other festival highlights:
Here I am at the authors' reception with
Sam Moses
(for an absolute nail-biter of a true story, check out his book
At All Costs: How a Crippled Ship and Two American Merchant Mariners Turned the Tide of WWII
) and Sally Nemeth.
Sally's reading on the Children's Stage:
And then my own reading, Sunday afternoon. I shared the stage with my friend and mentor Karen Karbo, who read from the third book in her YA mystery series,
Minerva Clark Gives up the Ghost
.
I can't stand still long enough to speak from a podium. Even when I was teaching, I always had to move around. Plus, I talk with my hands. Drove some of my students nuts. Get over it, I'm Italian--I can't help it.
The inimitable
Karen Karbo
. When I grow up, I want to be just like her.
And finally, last thing on Sunday night at the festival's close, a photo session in the big red Wordstock chair:
I already can't wait until next year. I'll be reading from
Ten Cents a Dance
--and if any store windows are up for grabs, get out of my way. I'm
there!